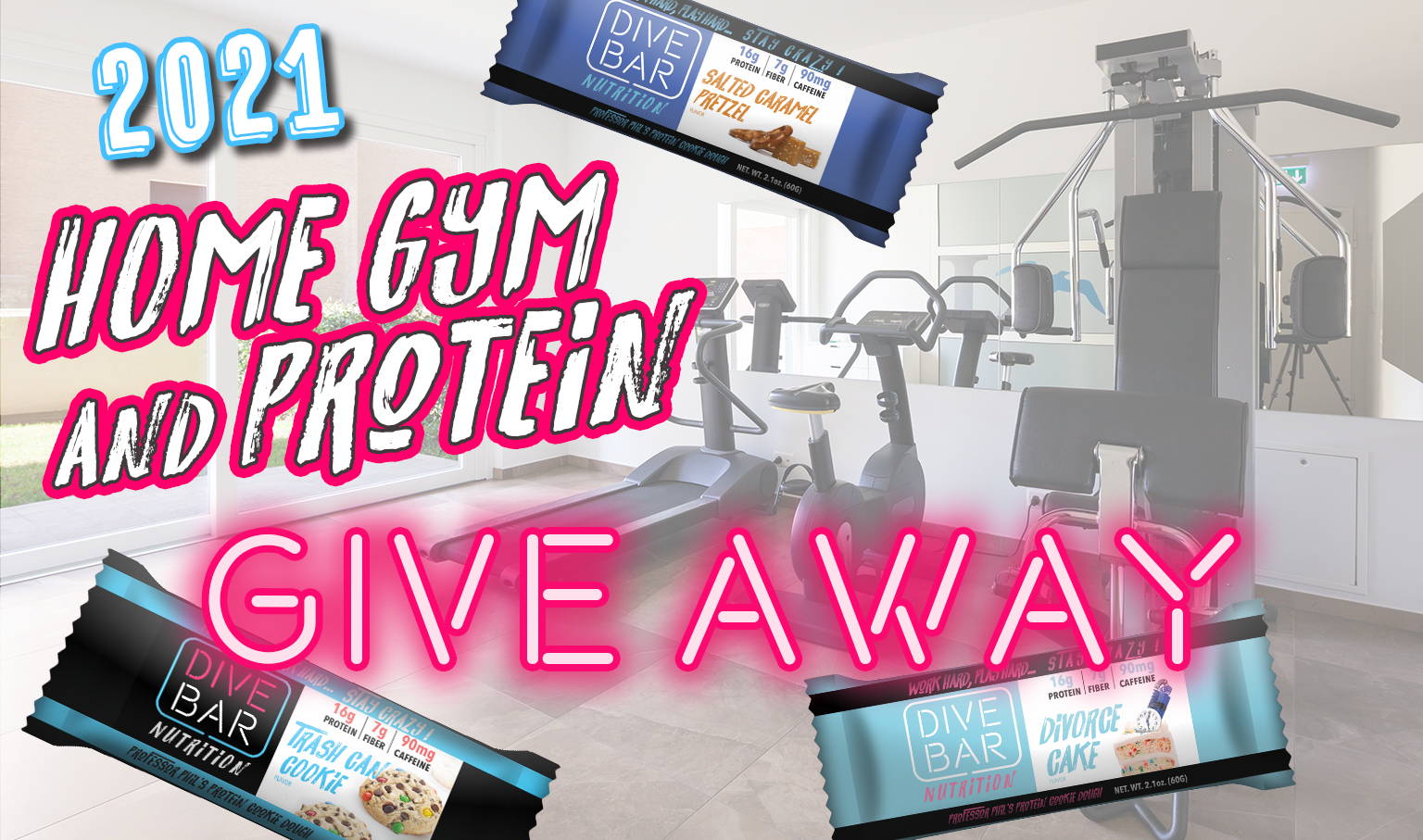 Grand Prize: Choose one of the following...

PLUS GET $100 in DIVE BAR NUTRITION STORE CREDIT EVERY MONTH IN 2021 ! ! !
SIGN UP TO WIN !
Grand prize is a home fitness setup (value: $1,100) plus $1,200 worth of store credit at DiveBarNutrition.com)!
2nd place receives $50 of Dive Bars and protein powder (paid in store credit) each month in 2021
3rd place wins $25 in Dive Bars and protein powder each month (also via store credit).
We might send some goodies or a voucher for FREE SAMPLES so use an email that you check !
Thanks and good luck! . . . IF YOU WANT TO TRY DIVE BARS NOW... USE CODE 10off20 to save $10 off orders over $20 (Excludes gift cards and clearance)
This field is required
This field is required
Must be 18 years old and a resident of USA. Employees of Dive Bar Nutrition Inc, its employees, associates, and ambassadors may not participate, nor may the family members of such. By submitting your email you agree to the communications, marketing, and privacy terms stated on DiveBarNutrition.com. Contest and its prizes hold no affiliation with Bowflex, Pelaton, Echelon, or any other fitness equipment manufacturer. Winner shall assume all risks of using awarded prize and will complete a winner's agreement in which he/she/they agree to exercise safely, assume all risks, and take up incidental, accidental, and warranty issues with manufacturer of said products, and that he/she/they recognize the prize as a gift. Aforementioned agreement shall be completed and signed prior to prize being issued. If Dive Bar Nutrition cannot provide the desired option selected by grand prize winner, company shall offer substitute of comparable value or gift card for $750 to nationally recognized retailer such as Target, Walmart, Dick's Sporting Goods, or Amazon, all of whom also hold no affiliation with contest. Grand prize shall ship free within continental USA/Lower 48 states, but may be subject to surcharge if winner desires product to Hawaii, Alaska, or Puerto Rico. Offer valid in USA. Winner will be selected on Feb 1, 2021 and notified by the email submitted. In the event that winner does not recognize their prize by Feb 5th, a new winner shall be randomly selected and afforded the same 5 days to reply, and so forth. Full terms and conditions available at DiveBarNutrition.com
Good luck y'all!